November 30, 2022
Joe Dell makes appearance in video for Angry Corpse Kill the Bully
Joe Dell makes a cameo in the Kill the Bully video just released by old friend Tim McMurtrie. Tim is famous for his work on the 1st M.O.D. album. Joe, "Yeah, I know Tim since the 80's, really kool dude, solid. Dom Braico told me about the video shoot and said I should come up. All the old crew was there. Great seeing the faces. Tim, I haven't seen in ages. Classic Tim getting the crew together. The song is kick ass! If you love old thrash/hard core crossover. Get this song!"
 https://www.noecho.net/features/angry-corpses-band?fbclid=IwAR19yJPxfnf9VaI-H8r_NYpA59DYqhktK0g10C2ejLEUTBrabX1-Ylae7ac
November 29, 2022
Apocalypse makes world debut on Hair Nation hosted by Eddie Trunk
Apocalypse, the new song written by Pat Gesualdo for the upcoming Metal Hall of Fame All Stars box set debuted on Eddie Trunk's radio show on Hair Nation Sirius XM. The song features Joe Dell on synth and Pipe Organ along with Tim "Ripper" Owens on vocals, Mike Orlando on guitar and Pat Gesualdo on the drums. The upcoming box set that is set to be released in time for Christmas with feature a full CD of brand new music and DVD with highlight of the past 5 years of the Metal Hall of Fame gala along with a shirt, keychain and other collectibles. The project in whole contains member of and full bands including Metallica, Black Sabbath, Ozzy, Dio, Deep Purple, Alice Cooper, Scorpions, Judas Priest, Iron Maiden, Queensryche and Kiss to name a few. Truly a must for metal fans!
October 28, 2022
Apocalypse by the Metal Hall of Fame All Stars officially released
The long awaited masterpiece has now been officially released. Featuring Tim "Ripper" Owens  of Judas Priest and Iced Earth fame laying down his most amazing vocals to date. Mike Orlando who worked with Adrenalin Mob and Zakk Wilde (Ozzy) has you waiting for his flaming guitar lead. Along with Pat Gesualdo presenting some of the best drum work in the 21st century with speed and finesse. Joe Dell adds the powerful synth and spine crushing pipe organ that lifts the track to the next level. Distributed by Deko of Warner Bros. Records, you can stream and download this soon to be classic now!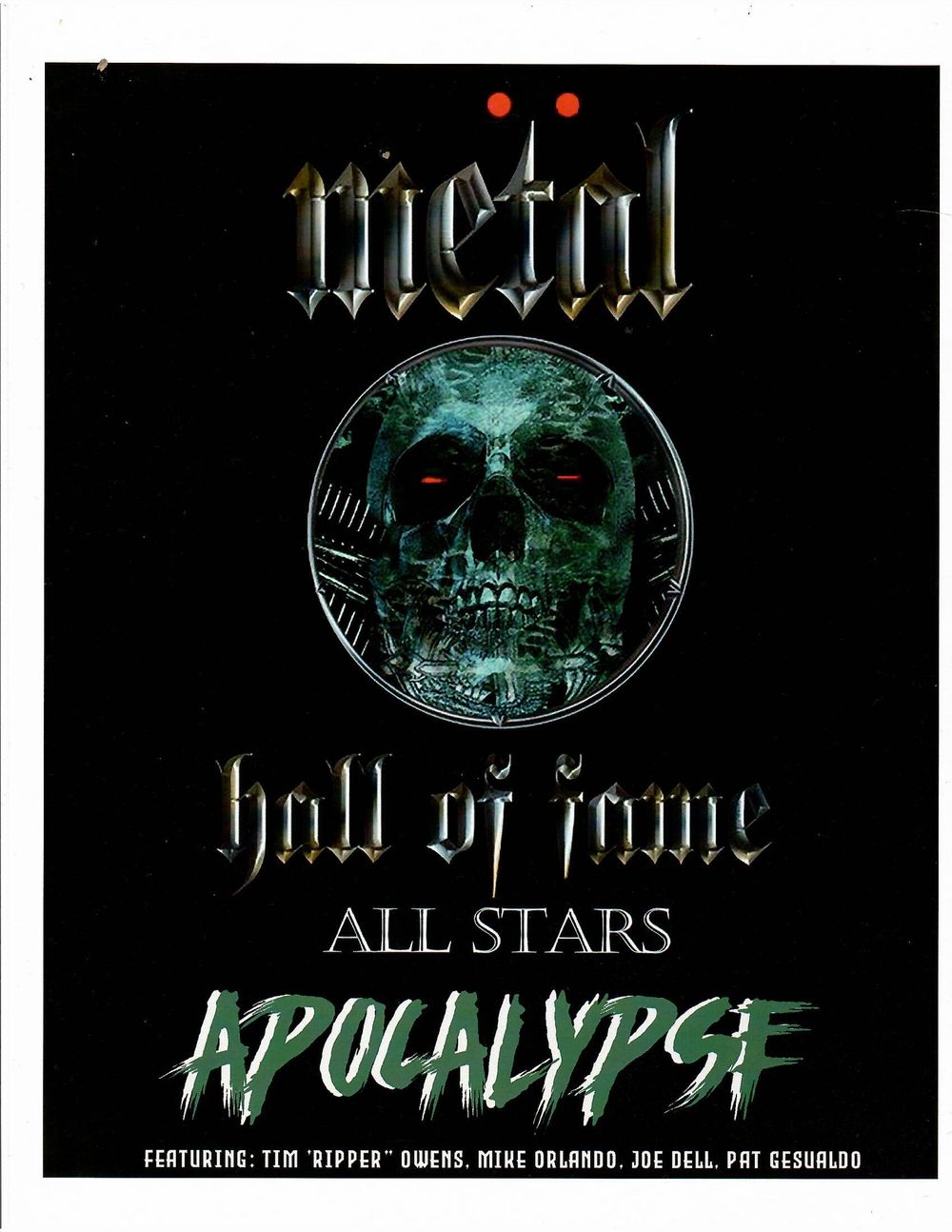 October 19, 2022
Judas Priest, Ozzy, D.A.D. Program and Sleepy Hollow Band connected?
PRESS RELEASE 
FOR IMMEDIATE RELEASE 
10-18-2022 
METAL HALL OF FAME TO RELEASE ALL-STAR CD 
Clifton, NJ (October 18, 2022) – The Metal Hall of Fame today announced the upcoming release from the "Metal Hall of Fame All-Stars," a collaboration of Iconic musicians joining together to support the Metal Hall of Fame's mission of preserving Hard Rock and Heavy Metal music for future generations. 
"Attack of The Witch" and "Apocalypse," Are two brand new songs from the upcoming Metal Hall of Fame All Stars CD/DVD Box Set. They will be available October 28, 2022, on all streaming platforms worldwide, via ADA/Warner Music Group. 
PRE SAVE:  "ATTACK OF THE WITCH" https://smarturl.it/MHOFAttackOfTheWitch 
PRE SAVE:  "APOCALYPSE" https://smarturl.it/MHOFApocalypse 
Attack of The Witch," features Bob Daisley (Ozzy Osbourne, Rainbow, Yngwie Malmsteen), Guitarist Tony MacAlpine (Mike Portnoy, Billy Sheehan), Studio/Touring Drummer Pat Gesualdo, Mike Tirelli, (Riot, Holy Mother), and Derek Sherinian (Dream Theater, Kiss). 
"Apocalypse" features Tim "Ripper" Owens (Iced Earth, Judas Priest), Mike Orlando (Adrenaline Mob, Zakk Wylde), Joe Dell (Sleepy Hollow), and Studio/Touring Drummer Pat Gesualdo. 
The Metal Hall of Fame All Stars CD/DVD Box Set will be available November 2022.  It is complete with bonus tracks and a retrospective DVD, which features the Iconic Metal Hall of Fame Inductees and performances from the Annual Metal Hall of Fame Celebrity Gala. 
"We are excited to bring some great new songs to Hard Rock and Heavy Metal Fans everywhere with the Metal Hall of Fame All Stars CD!! " says Metal Hall of Fame President/CEO Pat Gesualdo. "All the musicians wanted to bring the fans a variation of songs in the true Hard Rock and Metal tradition!! They think the fans will enjoy them as much as they did recording them!! 
"At Deko, we like to combine artists in big cooperative projects," says Bruce Pucciarello, Deko President. "When Pat came to us with this powerful blend from the best musicians in the genre, it made perfect sense for Deko to be involved. Powerful pieces of music." 
About The Metal Hall of Fame: 
The Metal Hall of Fame (The Most Important Night In Hard Rock and Heavy Metal!!) is a non profit organization dedicated to enshrining iconic musicians and music industry executives who are responsible for making Hard Rock and Heavy Metal music what it is today. Their contribution to the genre is invaluable, and they continue to inspire fans throughout the world, from generation to generation. 
The Metal Hall of Fame holds the Annual Metal Hall of Fame Celebrity Gala every January, which features Legendary Hard Rock and Heavy Metal Inductees and performances. 
For more information, please visit www.metalhalloffame.org., or call 973-263-0420. 
www.metalhalloffame.org 
www.dadprogram.org
October 4, 2022
Goin' Over track Under the Ground has finally been remixed by the great Bob Both. Now, the lost 1st set of verses are here! 
June 3, 2022
Sleepy Hollow Band is sad to say they have lost a big part of the Sleepy Hollow Band family, the great and legendary artist known for his work on Legend along with Rainbow, Kiss and Manowar, Ken Kelly. Joe Dell, "Soldier just informed me of his passing. He was such a great man. He was there for me when I was going through my divorce. He gave me fatherly wisdom and helped me through. Loved him. Truly a sad day in rock and my heart." 
March 23, 2022
Matt Schwarz has just released a recording of By the Riverbank, a classical trio for flute, harp, and cello.  It was recorded remotely during the pandemic, by Argentinan harpist Mercedes Bralo, Finnish flutist Heline Fay, and Japanese-English cellist Akito Goto and mixed by Bob Both in NJ.  It portrays the first chapter of Kenneth Graham's "Wind in the Willows," with a lazy ride down the river, followed by a more lively section with harp glissandos as the boat tips and Rat and Mole fall in the water, and an exciting section starting at 3:45 as they get caught in the rapids!  Musically, it's a mix of classical, modern Celtic-rooted folky/new-age, and some pastoral 70s prog-rock influences.  
A second section, inspired by the mystical "Piper at the Gates of Dawn" chapter of the book, has been written and awaits a recording (it seems like something that requires the players to rehearse and record in a room, so pandemic shutdown was not a good time to record it). 
Check it out:  https://sleepyhollowband.com/matt-schwarz
February 15, 2022
Joe Dell has 2 songs in the can. Caught in the Web and Hawk's Song. The first is his Rock song, one of which has hasn't written in almost 20 years and the latter a ballad. The project is called Dell's Gig-O-Bites. The line-up features Joe Dell on keys, Antonino Pollaro on Drums, Gary "Soldier" Luhrman on Dawk modified Joey DeMaio Rickenbacker bass guitar, John "#3" Zambri on lead and rhythm guitars and neew to the fold Aaron Kellner on lead Vocals. Here is Joe to tell you more about the project. Joe Dell, "Yeah, it is finished! I am super psyched about the outcome. It was a dodgy deal. The songs were originally written with Hawk in mind for vocals, but I had a finite amount of time to get these mixed and mastered! My cousin is pitching to a major label now for me as we speak. I wrote the ballad titled Hawk's song on a Tuesday and recorded it on the following Sunday. Then Antonino and I laid down the Organ and drum tracks for Caught in the Web. The original guitarist did not pan through so I pulled John aboard and he did an amazing job laying down guitar. Next, Soldier meticulously laid down bass for the track. We were waiting on Hawk but he got hit with the Covod, so in comes fellow Sleepy Hollow Band legend Dan Castiel. He pulled Aaron from out of his pocket and the kid laid the vocals down with-in days of the deadline and did an amazing job! Then enter Bob Both, legendary James Brown engineer/producer. The weekend we were set to mix, we got hit with a blizzard here! We were doomed? right? wrong! Bob, the professional his is mixed it via internet! Then, Tim Boyce, the Disney/Broadway legend mastered it right under the wire. Now we have 2 kick ass tracks in the can, waiting to be picked up! I will let you guys know when they are going to be released and how, but man, am I proud. The rocker has all the elements to be the biggest rock song of the new millennium! The ballad is a song of hope I think everyone can relate to. The Rocker is about being addicted to the internet, but yet can be relative to so many other facets of life. I think these are 2 of my best to date. I can't wait for the public to hear them." We will keep you updated. 
November 29, 2021
Joe Dell Has a new project. Let him tell you about it. "Yeah, I am psyched. It is called Dell's Gig-O-Bites. First and foremost, I am so happy i finally got to record with Antonino Pollaro, my childhood friend i started my first band with in 1985 called Live Evil with Bobby Vaughan. Yeah, Black Sabbath album title. we were 11. (laughs) But, Antonino is such an accomplished professional. He was my mom's favorite son! Of course we have the legendary Bob Both engineering and co-producing. He's the best. Back on Bass my old compadre Gary "Soldier" Luhrman. Vocals will be Brendan "Hawk" McKenzie. and I am glad to announce, for the 1st time in 23 years I am working with John Zambri once again!. We laid down the drums and keys yesterday. Soldier and John are working out their parts for the studio and Hawk will be laying tracks when he gets back from tour next week. Oh, and the name of the song is Caught in the Web. My first rock song I have written in 20 years!"
October 5, 2021
Joe Dell has once again entered the studio with Legendary Bob Both on Sunday and has laid down the piano and backing tracks for his new song titled Hawk's Song. As a twist, he will not be the lead vocalist. We will let him give it to you in his own words. Joe Dell, "Yeah, I slammed this one out pretty fast. I wrote it last week and got in with Bob to lay it down as it is fresh. I am quite happy with it so far. The concept is based off of what I heard Kent Hovind say recently, about using the gift God gave you. Which leads to who is singing. For the first time the kick ass Brendan McKenzie will be at the vocal helm! My old bro from back in the day. We both have been working with bands for over 25 years and finally we will work together. This is by request of the Executive Produce Alex "Big Al" Julian. Both Brendan and I are waiting to see what God has planned with the gifts he blessed us with....may be this song!"